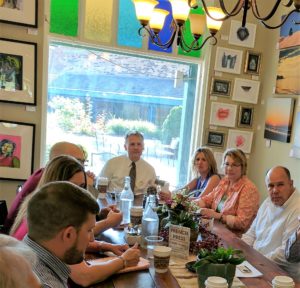 In keeping with Attorney Rick Howard's recent blog post about facing you "F.E.A.R." in business, here is additional encouragement should you find yourself in a situation where legal counsel could save you a lot of worry. As he shares here, don't be afraid of your attorney. We're here to help. 
If you look hard enough at any situation, you can find a solution. That is one of my guiding principles as a person and as I act on a client's behalf as legal counsel.
I recently shared this during a talk at the Pennridge Business Network, advising them — and you — "Don't be afraid of your attorney." I and my colleagues here at Weber Kracht and Chellew are here to act as your advocate. We know that a well-counseled client is protected in ways he or she may not even realize.
Working to anticipate any issues related to your case or concern, we take pride in looking out for your rights. We believe that paying attention and caring makes all the difference.
It all starts with a conversation. If you have a concern or legal issue, let's talk about it. Contact us today.

Richard Howard, Jr. is one of the most respected, dedicated and hard-working litigation attorneys in Bucks County. As a trusted advocate and counsel for his clients, Rick draws upon his strong judgment, undaunted work ethic, and extensive 24-year experience handling wide varieties of challenging and simple civil litigation matters, to effectively handle each client's most difficult legal matters in today's world. Rick prides himself on getting to the "real issue," in truly relating to each situation, and doing what is "right" for his clients and in accordance with the Golden Rule.
This article is designed for general information only. The information presented should not be construed to be formal legal advice nor the formation of a lawyer/client relationship.